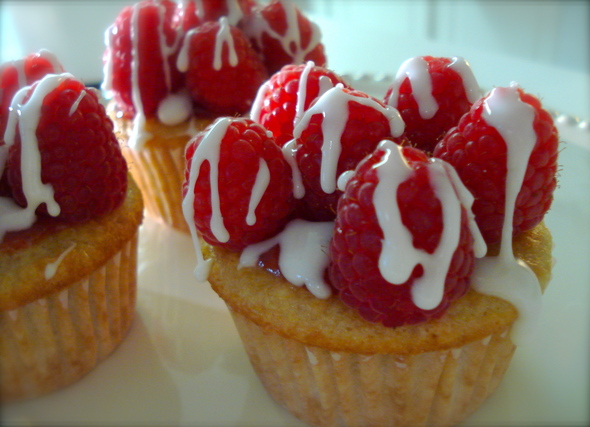 Seems like there are a lot of vegan cupcakes and why not when they are easy to make and also they are vegan. Now I'll admit that some things that are made vegan aren't as good as the same thing made with milk and eggs but it seems like cupcakes are not one of those as they taste just as good to me. I know you have you favorite vegan cupcake recipe why not share it with our readers?
Vegan vanilla cupcakes topped with fresh raspberries are perfect for summer celebrating
VANILLA RASPBERRY CUPCAKES

(Adapted from "Vegan Cupcakes Take Over The World," by Isa Chandra Moskowitz and Terry Hope Romero)

Makes 12 cupcakes

Cupcakes

1 1/4 cups all-purpose flour
2 tablespoons cornstarch
3/4 teaspoon baking powder
1/2 teaspoon baking soda
1/4 teaspoon salt
1/2 cup vanilla soy yogurt
2/3 cup vanilla or plain soy milk
1/4 cup applesauce
3 tablespoons canola oil
3/4 cup granulated sugar
1 1/2 teaspoons pure vanilla extract


Icing

1 cup of confectioner's sugar, sifted
2 to 5 teaspoons soy milk
Dash of vanilla or almond extract

Topping

1/2 c seedless, smooth, spreadable raspberry preserves, room temperature
1 cup of fresh red raspberries

TO MAKE THE CUPCAKES:

Preheat oven to 350 degrees. Line muffin pan with 12 cupcake liners.

In a large bowl, whisk together flour, cornstarch, baking powder, baking soda, and salt. Set aside.

In a medium bowl, mix together yogurt, soymilk, applesauce, oil, sugar, and vanilla. Sift dry into wet ingredients, and mix until just combined.

Fill cupcake liners evenly. Bake 22 to 24 minutes, until toothpick inserted through the center of one comes out clean. Transfer to a cooling rack to cool completely before decorating.

Prepare icing while the cupcakes are cooling, and assemble just before serving.

TO MAKE THE ICING:

Whisk together confectioner's sugar with a small amount of soy milk at a time, until desired consistency is reached.

TO ASSEMBLE:

Spread top of cupcake with a thin layer of spreadable fruit preserves (approximately 2 teaspoons). Dab small circle of icing on top of jam. Decorate with fresh raspberries. Carefully drizzle tops of berries with more icing, and serve immediately.